Downloads
Kompass Award Ceremony
Photos Photographer Mathias Lauringer, free of charge for editorial purposes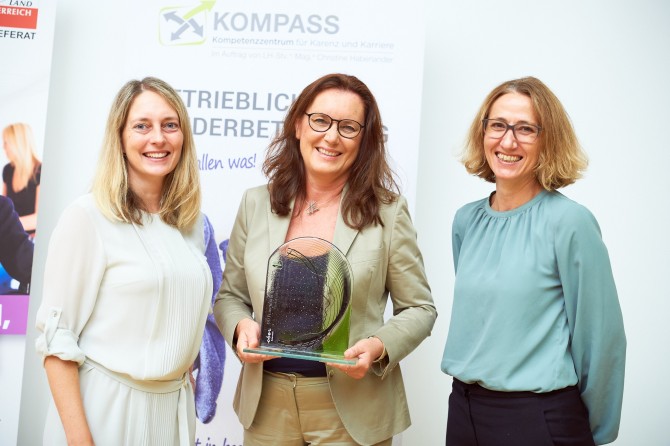 Winners Women's Advancement Award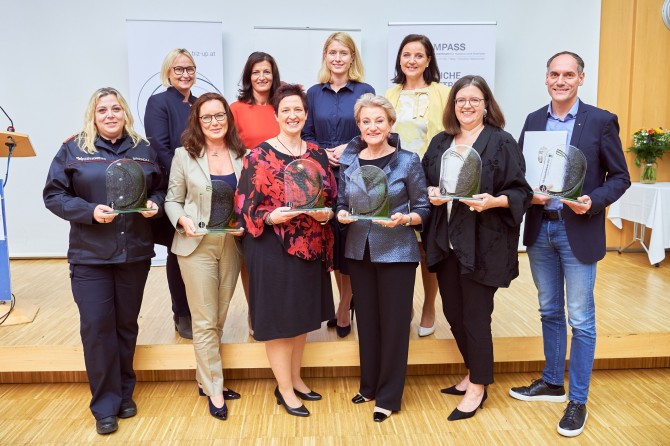 Family, career, children, care – challenges also at work
Astrid Siegel wins Women's Advancement Award
Kellner & Kunz AG Managing Director Astrid Siegel (55) wins the Upper Austrian Women's Advancement Award 2021 in the category of individual. The new award is presented by the "Kompass" association to Upper Austrian individuals, companies, associations and institutions whose activities are particularly committed to the equality of women.
The award ceremony took place on July 20 in Linz. Kellner & Kunz is a leading employer with its headquarters in Wels, which is particularly committed to the compatibility of family and career and distinguishes itself through the equality of women in the company and in society.
Astrid Siegel has been working for Kellner & Kunz since 1993. Since 2005, she has been a member of the Executive Board with responsibility for the areas of finance, controlling, legal, specialist stores and marketing. Since 2016, she has successfully managed the international business unit controlling of the RECA Group. In addition, she assumed responsibility as Compliance Officer for the entire RECA Group in 2016.
"Women must be promoted for management functions."
Because her mother was also already working, there was no doubt in Astrid Siegel's mind that a woman could have a career: "I never questioned that a woman could become something. Nevertheless, experience has shown me that women simply have to dare to do more." For her, it was therefore a matter of course in her professional career to promote women in her environment and to enable them to have both career opportunities and management responsibility.
Family, career, children, care – challenges in the job as well
At Kellner & Kunz, there are numerous offers to better reconcile family and career and support programs for particularly committed female employees. The junior management programme launched in 2017 is developing particularly well. It teaches the basics of employee management, interviewing and recruiting skills, and in the course of practical projects, the young managers gain insights into other departments. It is particularly pleasing that the growth of the company means that there are always new opportunities to grow into specialist roles or team leadership. In the areas for which Astrid Siegel is responsible, for example, committed women have successfully taken over the management of the specialist stores, controlling as well as marketing.
Bring your family – offers for the whole family
When Kellner & Kunz celebrates, it is with the whole family: whether at the Christmas market, incentive trips or anniversary celebrations. At the "Mama Papa Days" the little ones get to know their parents' workplace and during the holidays there is a two-week holiday programme for children. Young relatives can get a taste of the working world on the occasion of a holiday job.
2017 Kellner & Kunz was awarded as a family-friendly company by the Federal Ministry for Family and Youth, recertified in 2020. Astrid Siegel: "It is important to us that the working conditions are aligned with the life situation of the employees. In doing so, we focus on information and communication, management culture and parenthood or parental leave and return to work."
In the previous year, a company kindergarten and crèche called "RECA minis" were added. The children are now cared for all year round at the place of work in a modern and familiar atmosphere. The Diakoniewerk Upper Austria is the responsible body. Astrid Siegel: "The nice thing about it is that these childcare services are used by all target groups, by field and office staff, logistics employees and managers."