Download RECA iSCALE brochure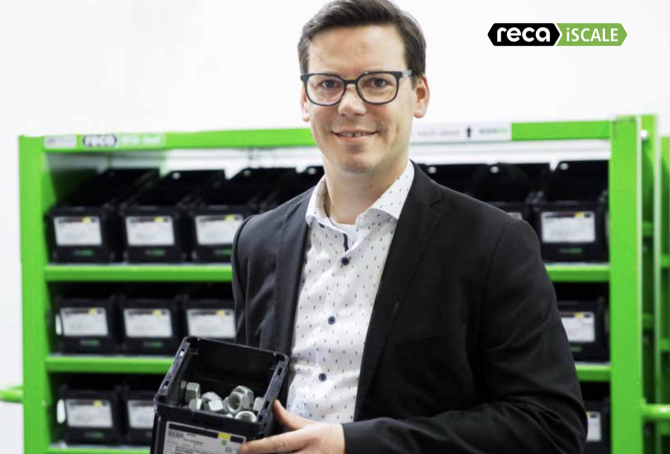 Have we sparked your interest?

Harald Dobesberger-Hofer
Systems Engineering Manager, Assistant Sales Manager Industry Business Unit Austria
Telephone: +43 / 7242 / 484 235
Email: vl-istorage@reca.co.at

Our innovation
Digital single-bin management – ready for industry 4.0
Integrated weighing system in the bin base
The RECA iSCALE is a single-bin management system that uses weighing technology and state-of-the-art communication protocols to automatically monitor your stocks and to reorder materials as soon as these fall below a predefined reorder point.
The RECA iSCALE is guided by the weight of the contents. If a bin falls below the specified minimum weight, an order is automatically triggered.
In contrast to a KANBAN cycle, the need for empty bins is eliminated, which means that fewer bins are in circulation. This saves space and promotes a zero defect policy, as the RECA iSCALE does not have to be operated manually.
Cost-efficient – fast and reliable
Wireless connection
Mobile use possible
Fully automatic order processing
Goods supplied directly at the workplace!
Automated transmission to the merchandise management system
The bin transmits its fill level to our system via radio technologies and is processed there by us.
Ultra-efficient order processing and supply cycle
Depending on the fill level of the bin, an order is automatically generated and the goods are subsequently refilled into the bin at the workplace.